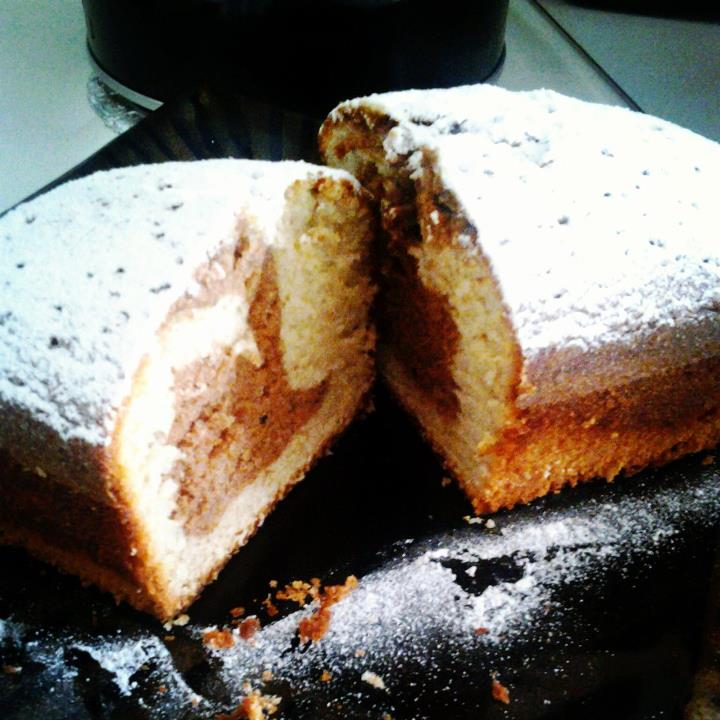 …and still no new mixer…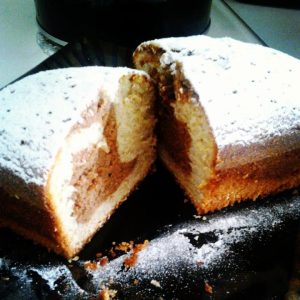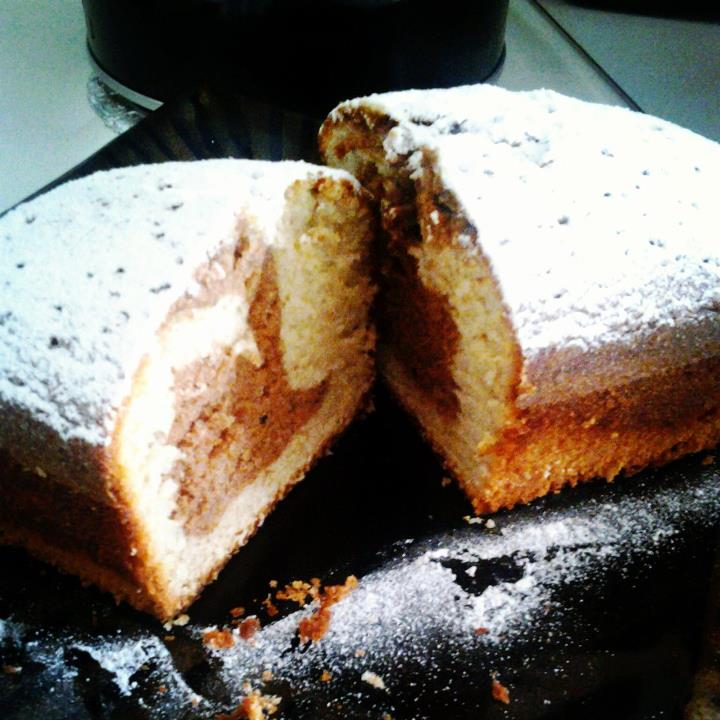 So I made this by hand. I used Paula Deen's pound cake recipe, and added my fall twist on it. Her Ingredients are:
1/2 pound (2 sticks) butter, plus more for pan
1/2 cup vegetable shortening
3 cups all-purpose flour, plus more for pan
1/2 teaspoon baking powder
1 teaspoon vanilla extract
I used margarine instead of butter. You will also need 4T cocoa powder and 1T gingerbread spice (i make mine from cinnamon, ground ginger, allspice, nutmeg, ground cloves, in big batches, about 1/2 cup and 1/4 cup, adjusting to taste) and about a teaspoon of fresh grated orange peel.
Here's my directions:
Preheat oven to 350 degrees F.
I used a juice blender to mix the vegetable oil and margarine together until it was creamy. I transferred it to a mixing bowl and started adding sugar and whisking it rapidly. then i whisked in the orange peel. Add eggs, 1 at a time, whisking after each addition. Stir dry ingredients (except for cocoa powder) together in a bowl and add alternately with milk, starting with the flour and ending with the flour. I was out of vanilla extract so I skipped it here, but I recommend using it and stirring it in now. Pour into a greased and floured tube pan. This recipe makes a lot of batter, I used two small loaf pans and still had leftover batter (which I ate of course, duh) Make sure you butter and coat it heavily with flour, or bread crumbs if you have some. I poured in about 3/4 of the batter in and then added the cocoa powder to the remaining batter, mixed it in, and then poured in the pan, too. It'll make it kind of like a chocolate-gingerbread marble pound cake. Bake that sucker for about 1hr and 30 minutes. It HAS to bake long. When your house starts smelling like the holidays, it means your cake is almost ready. Test with a toothpick in several spots and make sure it comes out clean. Dust with cinnamon powdered sugar and devour. Makes for a great scent for the home, too, by the way ; )