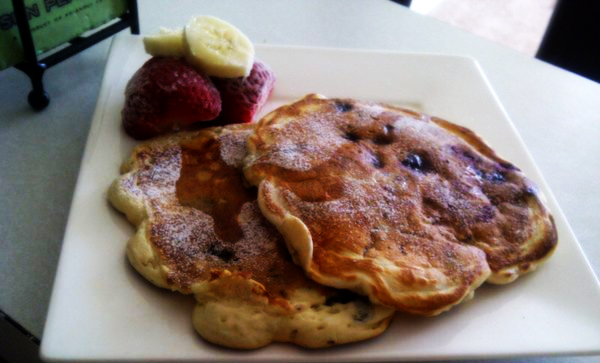 Blueberry Banana Pancakes
New morning routine (after doggy beach with Chuck, of course)
I had one very very ripe banana starring at me, so I had to use it. I'm not fond of only banana flavored things (although banana juice sounds like it'd be fun) so I added a bunch of blueberries.
1 3/4 c flour
2 1/2 t baking powder
pinch of salt
3T vanilla sugar
1 1/2 c milk
1 egg
2T melted butter
1 banana
1c blueberries, fresh
Mix all ingredients except for blueberries (I use a juice blender), let sit in a fridge about 10-15 minutes, mix in blueberries. heat up a non stick pan, no oil needed. I use a soup scooper to make sure all pancakes come out similar size. Flip and make sure both sides look delicious.Makes about 10 medium sized pancakes.
Serve warm, sprinkled with powdered sugar, with fresh strawberries and some whipped cream and maple syrup. (gotta have maple syrup)
Here's a pic of mine! It's the simplest breakfast ever!