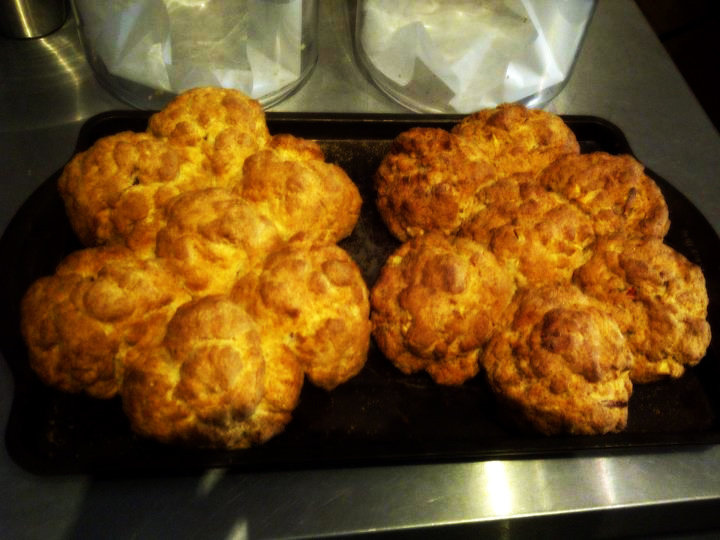 Is it Fall, yet? Heard people say "you know Fall's here when coffee shops start serving Pumpkin Lattes" hehe. So it's here!
I don't know about you guys, but Autumn to me reads apples, pears, pumpkins and cinnamon. And booties with sunglasses., skinny jeans, hoodies and red lipstick…. browns reds and yellows. Ha! Although Chicago still celebrates summer weather, I was inspired to bring back my September scones. Apple spice scones. Yum. You will love these. I do. Bf does. Been making these for two Autumns already. Here's the recipe, before I think of anything else fall I want to add on here… 'Njoy <3
Ingredients:
1c wheat flour
1c all purpose flour
1/4c sugar
1/4c dark brown sugar
2t baking powder
1/2t baking soda
1/4t salt
1t apple spice mix (made of cinnamon, ginger, ground cloves and allspice)
6T cold butter, cut into pieces (I've used salted and unsalted in my life, and no significant difference!)
2/3-3/4c buttermilk (I use low-fat)
1egg yolk
1 small apple, diced (~1cup) P.S.Don't throw the peels away, I have a little treat for you in my next post!
(I made two batches, shush!)
Preheat oven to 325F. Mix all dry ingredients, add butter. Mix and crumble with your fingers until small pea-sized crumbs form. Don't overmix. If there's a chunk of butter it's totally fine, no worries. Add apples. In a measuring cup, add buttermilk and egg yolk, mix with a fork. Slowly add to your flour mixture, folding with your hand. Add as little or as much to make everything come together. Again, don't overmix, and especially do not kneed! Just fod it all in so it's one ball of messiness. If you kneed the mixture, your scones will be tough and not moist. Ok, so now that all of it came together, you can either cut this into wedges, or you can tear off balls of scones and put them on non stick baking sheet, fairly close to each other, but they will grow so make some room! (use parchment paper if you want) Makes about 6-7 3oz scones, but you can make 'em smaller, you'll have more ; )(or you can make two batches, like I did ; )
If you have any of the buttermilk mixture left, you can brush the scones with it, and sprinkle it with raw sugar or cinnamon sugar. Bake these babies about 20minutes (test with a pick) Serve them warm. On a cool Autumn morning. Or afternoon. Or.. whenever!