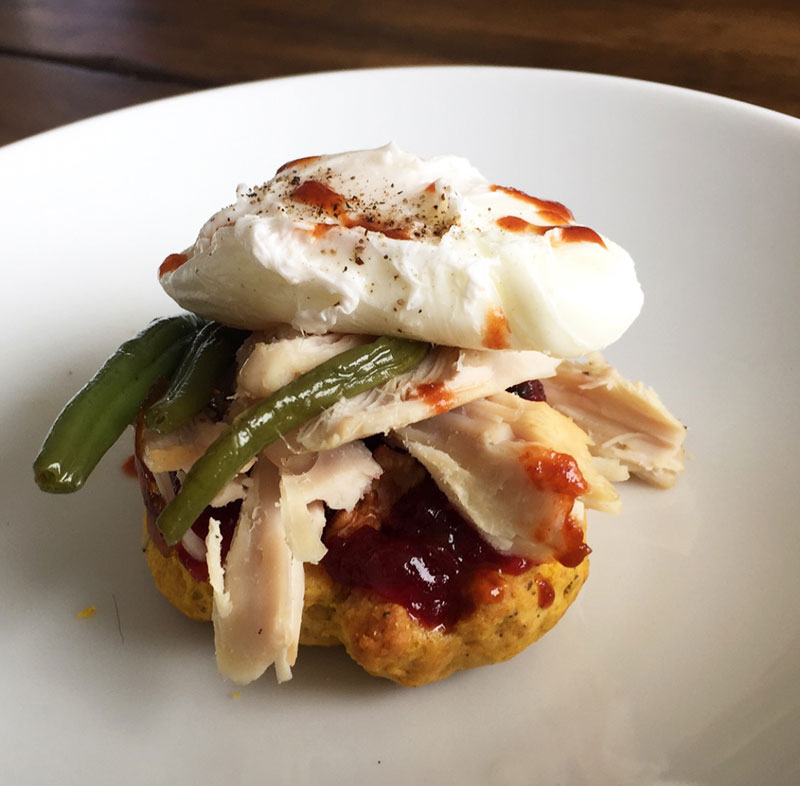 Thanksgiving Leftovers: Eggs Benedict
Thanksgiving leftovers are the best, so this morning I turned mine into brunch. I made a Thanksgiving Leftovers Eggs Benedict!
But first, a little about my Thanksgiving so far.
This year I celebrate Thanksgiving twice, once with a dinner for two on Thanksgiving, and the second time on the weekend after with the whole family at Ma's house. So for Thanksgiving dinner I only had to cook for two people. I got lucky when I headed to the store hours before the actual dinner to get the turkey breast.. There were only thighs and wings left, and the rest was frozen, with thaw time being 1-3 days. I didn't have time for that! So my only option was to grab the frozen breast "ready to cook, no thawing needed" – proclaimed the packaging. Ugh, I was so mad I didn't shop 3 days earlier like all the normal people.. I headed to the cheese section and suddenly heard the Supermarket Angels singing, it got super bright and there it was, a packaged, non-frozen turkey breast, sitting among the cheeses. Someone must've left it there, maybe they received a text, "Hey, Turkey at our house" and they just dropped everything and escaped the madness of the store altogether. OK, maybe they at least grabbed some wine and then left. Anyways, I cooked a turkey breast, made cranberry sauce, gravy, green beans with bacon, mashed potatoes, honey glazed carrots and pumpkin biscuits.
So this morning I woke up to a kitchen full of leftovers. Yes, even one turkey breast was too much for the boyfriend and I, so we had plenty left. How do you repurpose your leftovers? I turned mine into brunch! Nothing a poached egg can't fix. Here's how i turned my Thanksgiving Leftovers into a delicious Eggs Benedict.
Ingredients:
pumpkin biscuits
turkey meat
cranberry sauce (mine is topped with walnuts)
green beans with bacon bits
gravy
poached eggs
sriracha
Method:
Reheat all your leftovers and assemble in the following order: biscuit, cranberry sauce with walnuts, turkey meat, green beans with bacon, gravy, poached egg. I drizzled my poached egg with Sriracha, because heat. Enjoy your Turkey Eggs Benedict!
Need help making poached eggs? Boil water in a sauce pan, add 2 teaspoons of apple cider vinegar, bring down the heat so the water simmers. Crack a fresh egg in a small dish, with a spoon create a whirl in the water and drop the egg in the center. Cook 2 minutes, take out with a slotted spoon and place on a paper towel. Use a spoon to remove any whites that aren't uniform. Voila!
How do you transform your Thanksgiving leftovers? Leave your recipes in the comments!