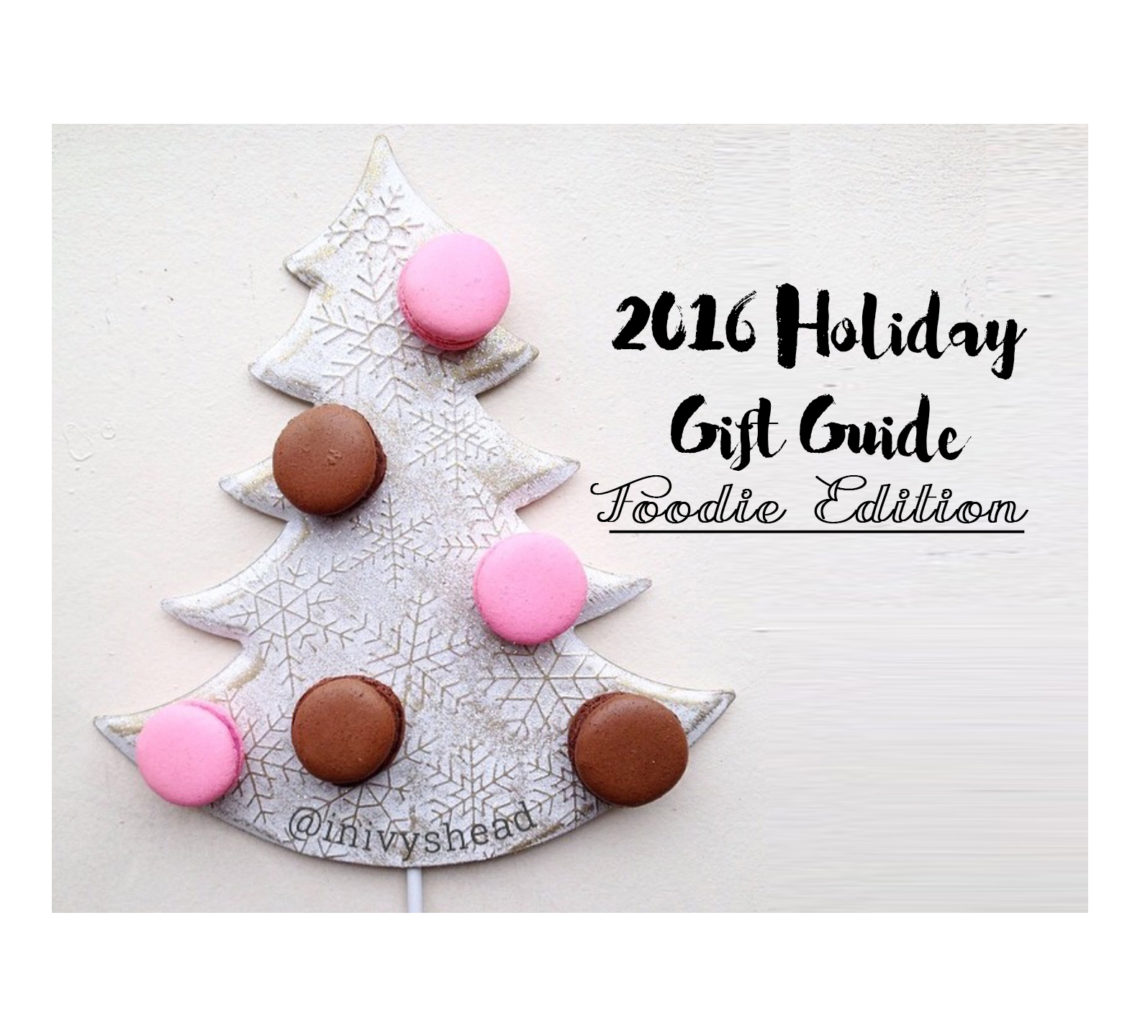 2016 Holiday Gift Guide for Foodies
Chicago may still feel like early spring (70s in November? What?) but the truth is simple, the holidays are just around the corner, and we all know the "foodie" on our shopping lists is the hardest person to shop for. So, I rounded up the ultimate holiday gift guide for any kind of the Chicago foodie.
For The Brunch Squad
No matter if your brunch squad is just a 2 person affair, or a whole group of 10, everybody will love a good gift card to spend on Mimosas. Kanela Breakfast Club (multiple locations, including the trendy Streeterville and Old Town) offers a great gift card deal this season: spend $100 on holiday gift cards, receive a $20 gift certificate for yourself (or to give another person!) to spend between January 2 – March 31, 2017. For someone whose many family members' birthdays are in January, I am totally all over this deal! Kanela Breakfast Club offers a delicious breakfast and lunch menu, with organic ingredients, and their Spicy Bloody Mary is to die for. One of my favorite dishes here is the Kanela French Toast and the Monte Cristo Sandwich. Shop here.
For the Quirky Foodie
You know that gal who's always best dressed, but also knows her way around the best hidden foodie spots in the city? She will totally adore a quirky wallet, a pair of pizza earrings, or perhaps these shoe charms in the shapes of her favorite food I found on ModCloth for just $9.99! And the Donut Christmas tree ornaments? Adorbs!

For the Foodie and Lifestyle Blogger
This gal always looks her best and usually has an Instagram Husband following her taking tons of pictures of her outfit. She's always posting magazine-quality brunch photos and gets invited to the next hot restaurant's opening before we, the commoners, even know what a japadog is… What chic lady doesn't love a fresh blow-out for her next blog post?
Depending on how close your relationship is with the Foodie Lifestyle Blogger, choose from The Gordon Glam, with Aveda Lip Glaze Duo, a Stress Relieving Scalp Massage, a Luxury Blowout and a Hand Relief Massage ($33, reg. $45.50), or the most expensive package, The Gordon Luxury with Aveda Candrima Gift Set, a Stress RElieving Scalp Massage, Aveda Perfecting Plant Peel, a Hair Cut and a Blow Out, Organic Texture Treatment and a Hand Relief Massage for $135 ($168.50 reg.) Gordon Salon uses the amazing Aveda products and has locations in Chicago's Lakeview, in Glenview, Highland Park and Wilmette.
The Coffee Loving Foodie
This is a great holiday gift for anyone who skips the morning coffee run and prefers brewing their own cup every now and then. Perhaps someone who works from home? Maybe that one foodie who always grabs a bag of beans to try and is on a search for the next best flavor. Caffè Umbria, ( 346 N Clark in Chicago) offers a great array of sets you can leave under the coffee aficionado's Christmas tree, from tumblers, mugs, to a Moka Pot. Check out all the items here.
For the Outdoorsy Foodie
This foodie most likely snapped from the pool hanging out on a donut float all summer. He/she will totally freak when they open their gifts and it's a Pizza Snow Tube!! Like, is there a better gadget to take to a New Year's Eve house party? Nope. I found one on GadgetBargains for just $20!
For the Foodie Sommelier
Wine is the answer. Know that one friend who always knows which wine to drink with what dish, and the difference between grape varietals, vintages and wine regions? If you've been invited to this friend's house for a holiday dinner, you need a GOOD bottle of wine. While everyone else will head to the grocery store, I have something better. Cellar Angels is a socially conscious website where you can find small production, excellent wines from Napa and Sonoma, and at a discounted price. I guarantee nobody else will bring these bottles to the party, plus, your purchase will support one of the 13 charities they've partnered with. Check out their current offers, the membership is free, plus you get extra perks with case purchases.
For the Cook
This category of a foodie can apply to many people, literally anybody who cooks, grills or the recipe blogger who needs a secret ingredient she can add to any savory meal. A good bag of seasoning that will spice up that boring chicken, shrimp or veggie casserole is the MangiaTV Cajun Rub. I personally have used this spice on everything, even sprinkle some on fried eggs, grilled asparagus or salmon. The website offers a great deal for the holidays: 10 bags of seasonings (over 3oz each) for $40 with free shipping. Stuff those stockings, and keep a few bags for your own kitchen experiments. Shop here.
For the Chic Foodie
We all have that one friend who's always covered in croissant flakes. She wears red lipstick and seems to never brush her hair (but she does, it just looks effortless). She reads books and travels, and has a scarf in every color possible. This girl will light up when she receives a fancy box of French Macarons. These cookies are beautiful, colorful and most importantly, delightful. With tons of bakeries around it can be super hard to find a good quality, authentic French Macaron, so I'll save you a trip (and disappointing your chic foodie!) – order a box from LeilaLove this year. A Chicago-based pastry chef who hand-makes her macarons and uses premium ingredients. The presentation won't disappoint, these French cookies are wrapped and ready to gift for literally any occasion, including the holidays. Order yours here.