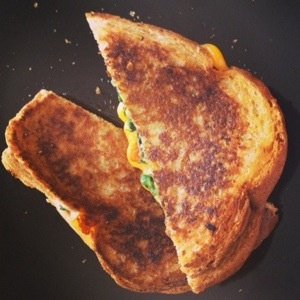 I spent most of my morning on twitter , scrolling, RTing, tweeting, following… When one post caught my eye: national grilled cheese month. Happening NOW. 2 hours later I was still thinking about grilled cheese so I decided to make my own to kick off this celebratory month.
It's got bacon, tomatoes, 2types of cheese, spinach and bread. Simplest thing ever.
To make 2 grilled cheese sandwiches:
4 slices of bread
2 slices of tomato
2 slices of bacon
Handful of spinach, chopped
4 slices of cheese, or more, your preference (I used 2slices of mild cheddar and 2slices of Swiss)
Butter
First cook the bacon and tomato slices over medium heat until desired bacon brownness achieved. Take out from the pan, leave the stove on. Spread some butter over all 4 slices of bread, on one side only. Take two slices of bread and put on the hot pan, butter side down. then, on each slice of bread, layer a slice of cheese (cheddar), a bunch of spinach, some cooked bacon (u can chop the slices into small bits), a tomato slice, another slice of cheese (Swiss) and top with a second slice of bread, butter side UP this time. After a few minutes flip the sandwich an brown the other side. Done!!!