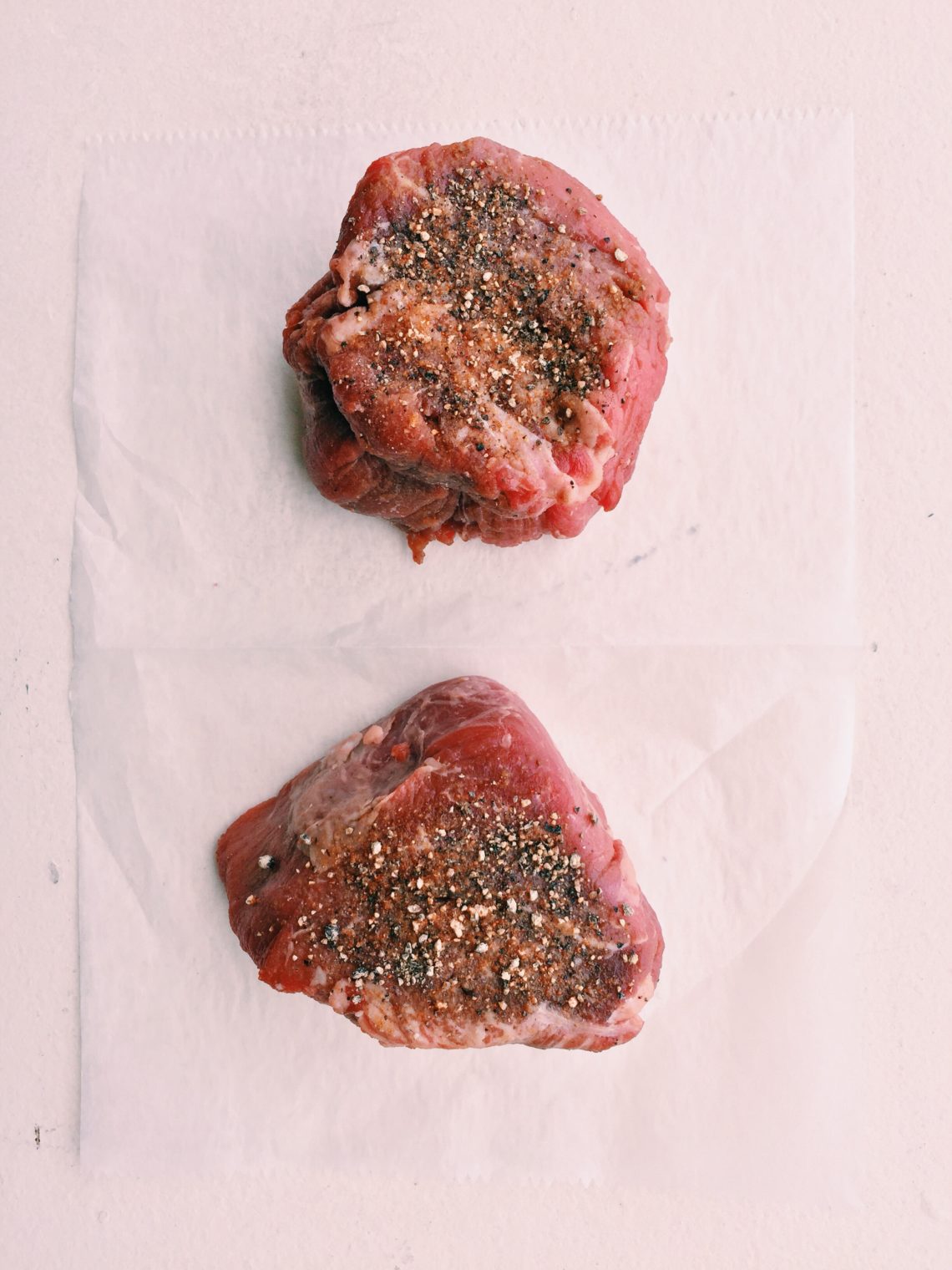 Steak Night – Reverse Sear
Everyone needs to master cooking the perfect steak. I found out my favorite cut is the filet mignon, cooked rare to medium-rare. You too? Great, then keep reading! Unfortunately, we (you and I, we're in this together) can't afford to go to steakhouses every 2-3 weeks. Which is why I learned how to cook it myself.
A wine-and-dine at a restaurant costs an arm and a leg, you order a bottle of wine and maybe finish with dessert. Try replicating the experience at home and you get to impress your partner, choose the music, the wine and not feel like everyone's watching when you go for a second slice of cake. Alright, here's my perfect filet mignon recipe with the reverse sear method.
2 filet mignon steaks (important: let sit at room temp 30min-1hour)
butter (I like Kerrygold, salted)
coarse salt and fresh milled pepper
olive oil
Since this is a reverse sear method, you need to use the oven first. Preheat your oven to 225F. In the meantime, pat dry the meat, brush with olive oil and generously season with salt and fresh ground pepper on all sides. Place on a baking sheet and put in the oven for about 30-40 minutes. Check the temperature with a meat thermometer and when it reads 105F, it's time. Bring steaks out on the counter and let sit 5 minutes. Heat a cast iron skillet to high. We'll be searing the steaks now, so to get that browned outside the skillet needs to be extra hot. At this point I usually unplug the smoke alarm, plug in once done cooking – my apartment is extra small. Once the pan is super hot, place the two stakes in there and sear on each side for about 1 to 1.5 minutes. Drop in a few squares of butter and with a spoon coat the steaks while searing. Watch the pan handle, it's super hot. Bring steaks out on the counter/board and the temperature should read about 120F for rare and for medium rare, the thermometer should read 125F. Cover the steaks with some plastic wrap and let sit 10-15 minutes to let them rest. Serve with butter, some side salad or maybe asparagus and pair with a bottle of your favorite red. Let me know if you've tried this method before, or if you have questions about the recipe – I'm almost always on Twitter under @inivyshead!