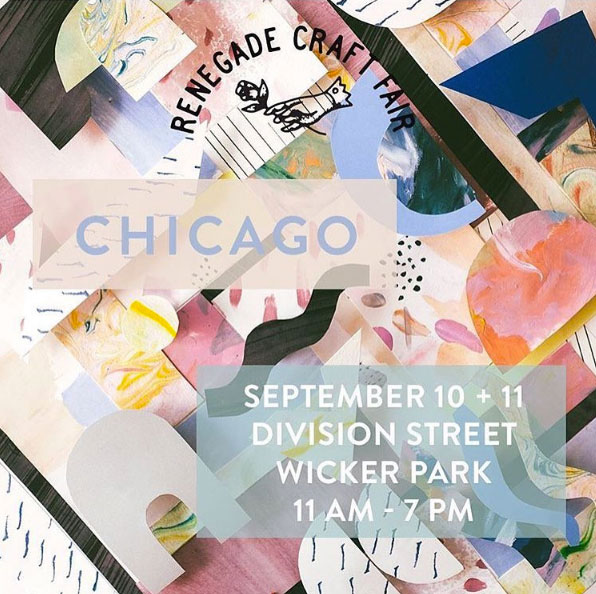 Renegade Craft Fair Chicago
Summer in Chicago is coming to a close so when you have a chance to be outside, that's just what you have to do. This weekend, Renegade Craft Fair came to Chicago and it was the perfect opportunity to be outside, look at artsy, handmade stuff and but a few pieces you really don't need but can't live without. Renegade Craft is a "highly curated showcase of the very best in modern craft and design", as their website proclaims.
Dozens of talented artists and makers set up their tents on Division Street in Wicker Park, and hundreds of people showed up in search of that one unique piece that screamed "take me home, you need me!". It seemed that greeting cards with catchy phrases are what the folks want/need these days. The artists sure delivered by offering unique designs for any occasion.
Linen was everywhere. Linen totes, linen scarves, linen dresses and tops… So. Much. Linen! Among all the hundreds of beautiful handmade thing I spotted a linen caftan dress from Ginger, but one split second makes a HUGE difference. Before you know it, the dress is in a fitting room and someone's taking out their wallet. It's the one that got away. Isn't it amazing? Add some booties, tights, a leather bag and you're ready for fall! Shortest horror story ever: "Sold Out".

There was art, wood, leather, jewelry, air plants. Air plants EVERYWHERE. Something for everyone. I'm a big fan of prints and once I stumbled upon Mr City Printing I finally found something for myself. A cute print of the Chicago map that is now happily hanging by my desk. It's hanging thanks to these super cool magnetic sticks, a unique alternative to a traditional frame. They come in different sizes and wood colors so you can create a perfect feature wall. You can swap your art without having to take it out of a frame, the front piece just snaps on and off, while the back piece is anchored to a wall. I found them at Well Made, very cool!

All this walking got me hungry for something light but fulling. Time for a stop at MAK: Modern Asian Kitchen! MAK makes you feel super good about your Chinese food cravings – it's satisfying, flavorful and not the type you used to get at those China Buffet places in the burbs. I got the General Mak Shrimp bowl with white rice and green beans, plus an order of MAK Wangs. The sauce they put on the shrimp and wings is so delicious! You get an option to make everything spicy, medium or non spicy, I opted for medium – it was perfect. They serve beers for $4-$7, have sparkling sake and a chill patio for when the day is perfect for al fresco dining. It's sort of like fast food, but cooked to order. MAK is my go-to spot on that part of Division street in Wicker Park. I'm coming back for the BOGO Wangs next Saturday (9/17 and then 9/24). MAK is also one of the first places in Chicago to offer the fork and chopsticks hybrid – the chork.
It was the perfect day in Chicago. The sun was out, the people wondered around, the art was inspiring. I'm looking forward to December 3 and 4 at the Bridgeport Art Center, but first, let me check if that grey caftan is available online – nothing haunts us like the things we didn't buy!