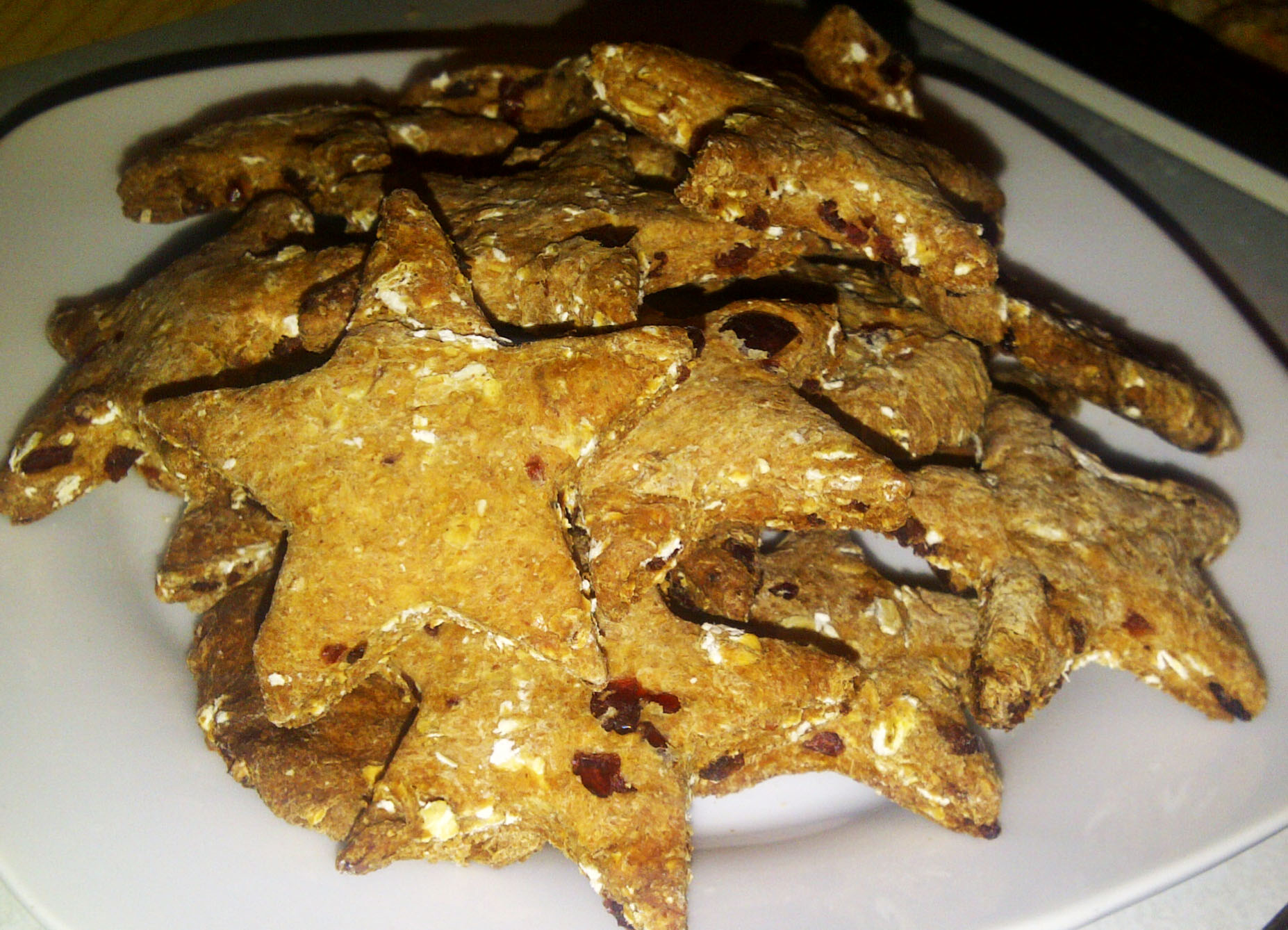 I found this recipe while baking the Carrot Oat Doggie Biscuits today. I had a box of dried cranberries in the cupboard just sitting there and I was trying to make enough to last me a while, and different types of treats. I didn't want my Chuck and Oprah to be bored with the same taste for a week (I'm such a silly human)
So I found these Cranberry Dog Treats and decided to give it a shot. I cut the recipe in half, because I don't like freezing anything, especially dog food, and I don't want them to go bad after a week or two. I substituted molasses for agave nectar, because I did not have it, nor would I want to use it in dog treats (no particular reason why not)
Ingredients

1 cup whole wheat flour
1 cup all-purpose flour
1/2 cup oats
2T agave nectar
1/2 cup dried cranberries, chopped into bits
1 egg
2T butter, melted
1/2t cinnamon
1/2 t baking powder
1/4- 1/3 cup water, as needed

Preheat oven to 350F, grease a cookie sheet.

Combine all dry ingredients, add agave nectar, melted butter (cooled), lightly beaten egg and a little bit of water. Start kneading, adding more water as needed. Your dough should be a little sticky, but should stay together in a ball. Knead for a couple minutes. Roll out on lightly floured surface to about 1/4″ and cut out shapes, or cut into squares with a pizza cutter. Bake about 30 minutes. The original recipe says to keep the cookies in the oven after you turn it off for about 2 hours to dry and harden, but my treats were already pretty hard after the 30 minute bake time. So I just took them out and let cool. My two little animals love them!!

Thanks for the recipe, Dog Tipper!