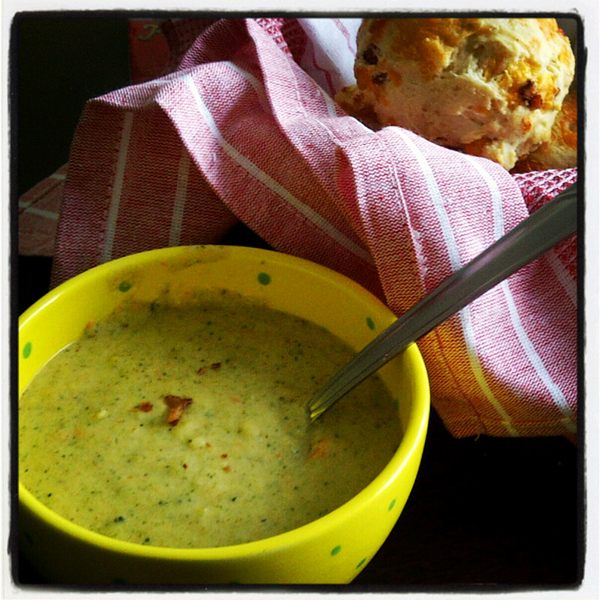 Broccoli Cheddar Soup and Bacon Cheddar Biscuits
Yes, i realize that's a lotta cheddar, but even my Chuck loved it!
SOUP:
4T butter (I used salted, but i recommend unsalted)
4T AP flour
2c half&half
2c chicken/vegetable stock (i used a cube of knorr dissolved in 2 c of boiling water)
about 3c of fresh broccoli
2-3 carrots, julienned
small onion, diced and sauteed w 1T butter
1c sharp cheddar
In a medium pot, melt butter and whisk in flour. Keep whisking and cooking it on medium heat for about 3-4 minutes. It'll be paste-like so keep whisking. Add cream and stock and cook for about 20 minutes. Whisk occasionally. Then, add the onions, broccoli and carrots and keep cooking another 2-25 minutes, until veggies are tender. Transfer to a blender, or food processor, and blend until only small chunks of veggies are visible. Pour back in the pot and cook another couple minutes stirring in cheese. Grate a little bit of nutmeg into the soup too. Taste, add salt and pepper. Taste. Careful with the salt!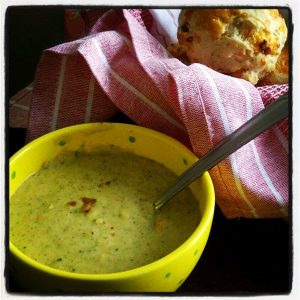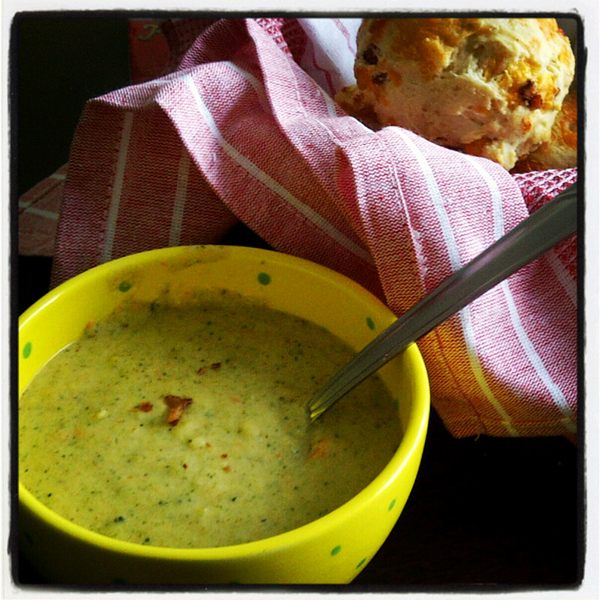 BACON CHEDDAR BISCUITS
3-4 slices of bacon – cooked to crispy brown, chopped
2c AP flour
1T baking powder
1/4t salt
1 stick of cold butter, cut in cubes
2/3c milk
1c cheddar, shredded
Glaze:
1t garlic salt + 3T melted butter (unsalted)
preheat oven to 425F. Whisk all dry ingredients, add cubes of butter and crumble with your fingers. Make pea-sized crumbs, add milk and combine. Don't kneed, or overmix. Combine only til there's no dry flour visible. Fold in cheddar and bacon. With an ice cream scoop, make little biscuit balls and put on your non stick baking sheet. Bake 6 minutes, take out, drizzle with garlic butter glaze. Back to the oven for about 8 minutes. Take out, drizzle with more garlic butter. Wait a few minutes. Serve warm with your broccoli cheddar soup.
Here's also a video of Chuck doing my dishes. Jk ; )