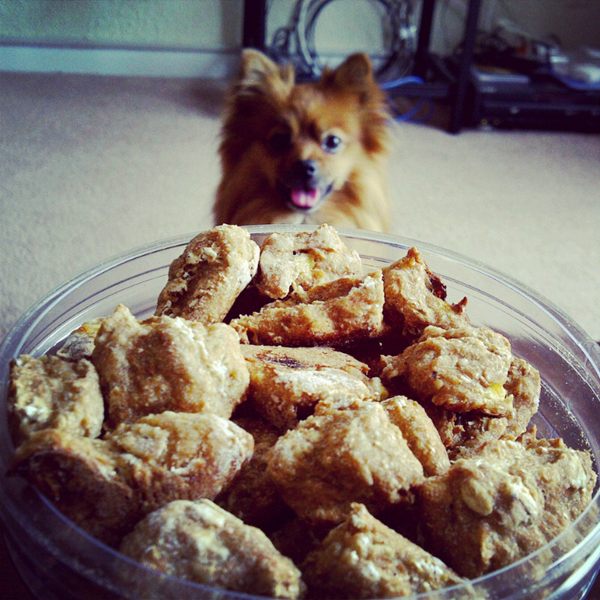 So I've noticed that some of the store bought treats have been pretty tough on Oprah's belly, she has thrown up several ones, from chicken strips to bacon bits (Beggin strips are the worst by the way, even Chuck can't handle them)
I've been looking for a good recipe online, tried two already before (one was a cheddar biscuit, I won't be making ever again, I can't remember what site I got it from, one was a Peanut Butter Banana biscuit both my dogs LOVED)
Today, I am posting this along with a tip: ALWAYS read reviews on recipes when baking something the first time. There's almost always something wrong with a recipe, either a step that was missed by the writer, an important tip, SOMETHING. Today I didn't read the reviews. The recipe called for 2 cups of water and when I got to the "roll the dough out and cut shapes" part, I realized my batter was waaaaaaaaay too sticky. So I looked in the comments/reviews and guess what!? The recipe WRITER's comment was on there stating it's supposed to be only 1 cup of water, plus more if needed. I WAS SO MAD!!!!!! Why doesn't she just delete the recipe off the site and repost with the right ingredients/directions???? UGH!
Anyway, the recipe was Brie's Banana and Honey Dog Treats, But I modified it a bit. Here's my version
Banana Oat Dog Biscuits
2 cups water (divided, only used 1 cup, then add more if needed)
2 bananas, mashed
3 tablespoons honey
1 teaspoon vanilla extract
1 egg
5 cups whole wheat flour
1 teaspoon baking powder
1 c oats
Directions
1. Preheat oven to 350 degrees F (175 degrees C).
2. Lightly grease 2 large baking sheets.
3. Combine water, mashed bananas (it's easier if you mash it first then add to water), honey, vanilla, and egg (slightly beaten with a fork) in a large bowl.
4. Stir in whole-wheat flour and baking powder.
5. Mix dough until ingredients are thoroughly combined.
6. Turn dough onto a floured surface and knead until no longer sticky. If your dough is too sticky just add more flour. Make sure it's not super tough too, then add more water.
7. Roll out dough to 1/4-inch thickness and cut into mini shapes with your favorite cookie cutter. (I used a pizza cutter, cut little squares and flattened them.
8. Place on prepared baking sheets.
9. Bake in preheated oven until cookies are lightly browned, about 20 minutes.
10. Turn off the oven and leave cookies until thoroughly dry and crisp, 30 to 40 more minutes. If your cookies are bigger you will need to bake and dry them longer, add additional 5 – 10 minutes
Watch you pups drool as you take them out : ) Make sure cookies are fully cooled before serving to your doggies.