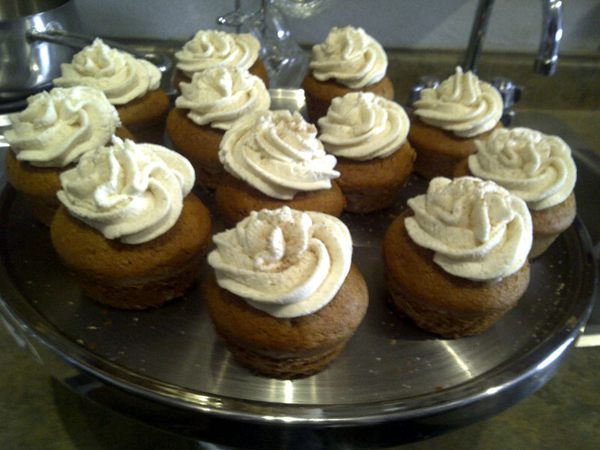 Pumpkin Cupcakes w/ Cream Cheese Frosting
Made these as a Thanksgiving gift for my boyfriend's mom last year. She loved them!
Here's my recipe:
Pumpkin Cupcakes:
cake:
4 eggs
1 1/3 c sugar
2/3c vegetable oil
15oz pumpkin puree
Preheat oven to 350F. Beat all until smooth. In a separate bowl. sift together:
2c flour
2t baking powder
1t baking soda
2t cinnamon
1/2t salt
Add to pumpkin mixture and mix until well blended. Stir in 1t vanilla extract. Fill cupcake tins 3/4 full. Bake 20 minutes for standard size cupcakes, or 30 minutes for muffin sized.
Frosting:
3oz cream cheese, softened
1/2c butter, softened
1t vanilla extract
2c powdered sugar (or less if you don't want it too sweet)
Mix all ingredients until smooth. Taste, adjust, add more sugar or more cream cheese.
When cupcakes are done baking, let them cool completely (on wire rack) then, put frosting on. Whichever way you'd like; pipe it, spoon it, plop it, blob it. Sprinkle with cinnamon it. Serve upside down with a fork ; )
I had to drive almost 2hours to her house so before that I put the cupcakes in a
freezer for about 15 minutes, so the frosting doesn't melt. These are very light and fluffy with sweet frosting – not
overwhelming.