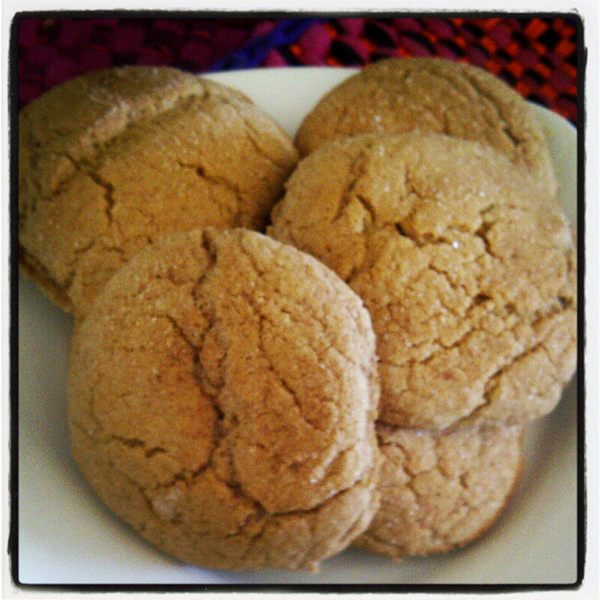 Gingerbread Snickerdoodles
Can you do that? Can you flavor snickerdoodle cookies to your taste buddies' request? I did.. and my buddies were craving gingerbread. I found gingerbread cookie ice cream at Dominick's last week n it's all i've been eating lol (safeway select brand, recommend it)
Anyway. made mine a little too big so some of them got stuck together. but that's ok, still taste great. Served with a scoop of gingerbread ice cream lol
I used Martha Stewart's Recipe, used a stick of butter and a stick of margarine instead,
also added 2 teaspoons cocoa powder, 1/2 teaspoon vanilla extract and 2T gingerbread spice to the batter (vanilla goes in after the eggs, cocoa and gingerbread in the flour mixture:
Ingredients
2 3/4 cups all-purpose flour
2 teaspoons cream of tartar
1 teaspoon baking soda
1/4 teaspoon salt
8 tablespoons (1 stick) unsalted butter
1/2 cup pure vegetable shortening
1 3/4 cups sugar, plus more if needed
2 tablespoons ground cinnamon, plus more if needed
2 large eggs
Directions
Preheat the oven to 400 degrees, with one rack in top third and one rack in bottom third of oven. Line baking sheets with Silpat baking mats or parchment paper; set aside.
Sift together flour, cream of tartar, baking soda, and salt; set aside. In the bowl of an electric mixer fitted with a paddle attachment, combine butter, shortening, and 1 1/2 cups sugar. Beat on medium speed until light and fluffy, about 2 minutes. Scrape down sides of bowl. Add eggs, and beat to combine. Add dry ingredients, and beat to combine.
In a small bowl, combine remaining 1/4 cup sugar and the ground cinnamon. Use a small (1 1/4-ounce) ice-cream scoop to form balls of the dough, make them about a walnut sized ball, otherwise they get too big, spread out and stick together while baking, and roll in cinnamon sugar. Place about 2 inches apart on the prepared baking sheets. Bake until the cookies are set in center and begin to crack (they will not brown), about 10 minutes, rotating the baking sheets after 5 minutes. Transfer the sheets to a wire rack to cool about 5 minutes before transferring the cookies to the rack. Store in an airtight container up to 1 week.