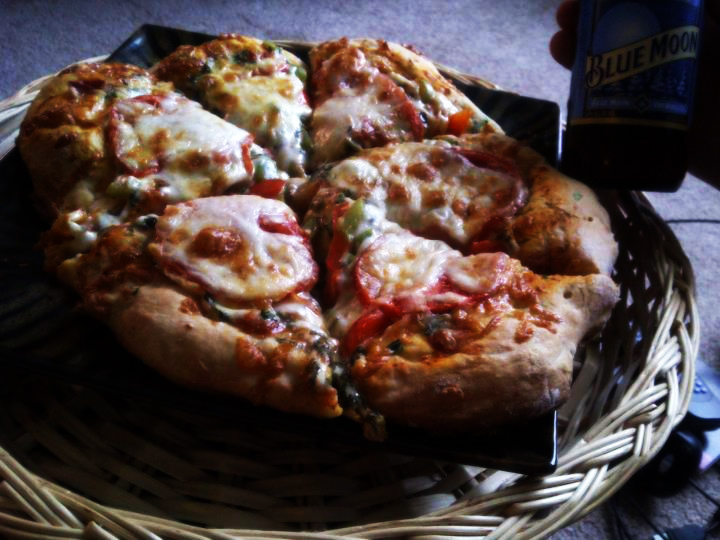 I happen to eat a looooot of pizza. We order delivery at least once a week or we go get slices to go. Today, I decided to see how hard it is to make a home made pizza (er, how easy it is to save 10-20 bux!)
I've dealt with yeast dough before so I figured I'd wing it and got to work. Here's what I did:
Dough Ingredients:
2c flour
pinch of salt
3/4c milk
2T fresh yeast
2t honey
3-4T Olive oil
I have a super tiny kitchen that doesn't have much work surface, so I made my dough in a bowl, but you can work on a prep surface, too.
Heat up 1/4c of the milk (I microwaved it on high for 15 seconds) and add honey and yeast, stir and let sit about 5 minutes. In a large bowl, add flour and salt, make a little crate in the center and pour in your milk and yeast mixture, stir lightly and add rest of the milk. Start working the dough and add 3T of olive oil, if the dough seems a little too dry, add another T of oil. If it seems too sticky, add a little more flour. Kneed it for about 5 -10 minutes until it is smooth, cover with a kitchen towel and let raise for an hour in a warm place.
While the dough is rising I prepared my toppings. Today, I went with a cup of mozzarella cheese, grated,about 10 spinach leafs, cut thinly, a quarter of a red pepper and green pepper, diced, and 5 slices of tomatoes.Make your sauce.
Sauce Ingredients:
2 tomatoes
2 cloves of garlic
onion, diced
olive oil, for pan
cooking wine
2T tomatoe concentrate
Dice your tomatoes, and cook on an oiled skillet, with garlic and onions. Let soften. Add a small amount of wine and let cook for about 10 minutes. Stir occasionally. If you dont have wine, use water. Season with some salt pepper and maybe some parmesan seasoning, if you have some. Taste and adjust as needed. I like to add about 1 tablespoon of spicy ketchup to my sauce, too. Transfer into a blender and blend until smooth.
Preheat your oven to 425F. When your dough doubles in size, transfer it to a floured work surface and roll out with a rolling pin. I prefer a more rustic, or home made, look so I didn't care for a perfect round circle, and let the edges be a little puffier. Spray a baking sheet with a non stick spray and transfer your dough to it. Put the sauce on first, then cheese, spinach, peppers and tomatoes, and more cheese. Brush a little olive oil on the edges for extra crisp and stick in in the oven for about 15-20 minutes and voila! Enoy your pizza and go get yourself a mani or a pedi for the 20 bux you saved!
PS. My veggie Pizza tasted super good with a Blue Moon ; )