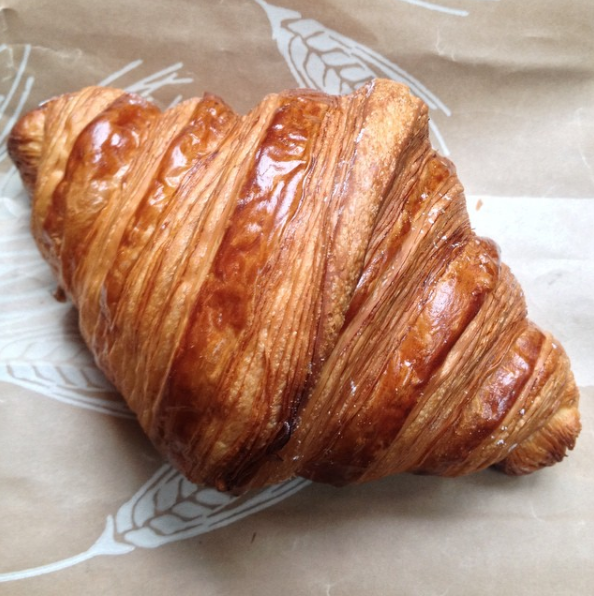 3 Places for a Fresh Croissant in Chicago
Let's be honest, foodies: there is nothing more sad than a dry croissant. January 30th is National Croissant Day and I refuse to let you suffer by eating a bad pastry. Luckily, Chicago has great patisseries where you can pick up a freshly baked croissant and pair it with your morning cappuccino or an afternoon tea. I'm definitely looking for more suggestions to add to this list, so be sure to let me know your recommendations!
LaPatisserie P
1050-52 W Argyle St, Chicago, IL 60640

I first was introduced to this corner patisserie by my good friend Leila (also a pastry chef, which is basically a sign she knows top spots for sweets and baked goodies around town). Finding a perfect croissant would not come to mind when visiting Uptown's Argyle Street – you mostly come here for pho and banh mi sandwiches! Now that you know about this gem, come here for the almond croissant. I always add a few sesame balls, a couple hot dog buns (pop these in a hot oven for a few minutes, you won't be disappointed) and sometimes grab a fruit tart and biscotti, too. Go early in a day, folks are catching on and the croissants don't last longer than til 3pm! LaPatisserie P surely serves one of the freshest croissants in town.
Pierrot Gourmet at The Peninsula Hotel
108 E Superior St, Chicago, IL 60611
This tiny little corner bistro greats you with a friendly smile and delicious smells. The outdoor patio is refreshing during the warm months in Chicago and invites shoppers, tourists and locals. The croissants here are always fresh, perfectly flakey and the buttery layers melt in your mouth. You will never get a day-old croissant here. Grab one with your cappuccino or stop in after work and grab the last few for the next morning – they hold up perfectly for at least two days after, just warm them up in a hot oven a few minutes. My favorite here is the plain croissant – you can make a delicious sandwich or spread fruity jams on the buttery layers and enjoy with tea. It serves, in my opinion, one of the best croissants in Chicago.
Pro tip: all pastries are half off after 4pm so be sure to grab a few French macarons, too.
Hendrickx Belgian Bread Crafter
100 E Walton St # 105, Chicago, IL 60611
I have to admit – I have not been here in months and I am kicking myself as I'm typing this. This Belgian Bakery in Gold Coast is very unique! Come here for bread but don't stop there. Their croissants are always fresh (you can see into the kitchen and watch the pastry chefs make their creations every day!) and their French macarons are GIANT. Fresh and twice the size of any other macaron for the same price. This place understands me, this bakery makes arguably the best and freshest croissant in Chicago.