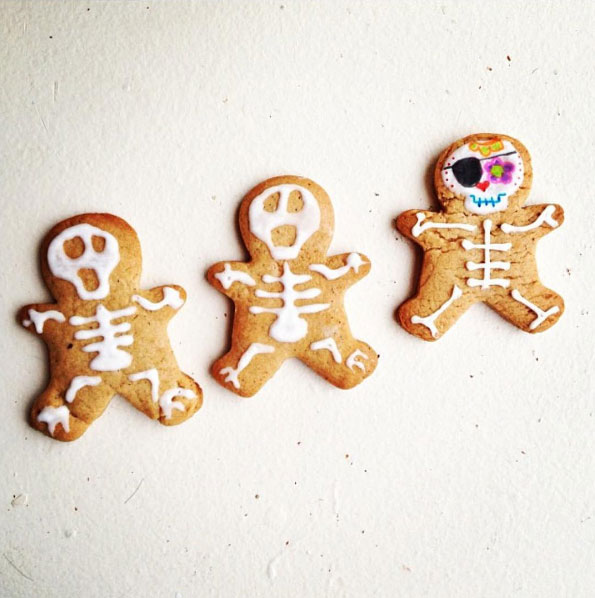 Boo! It's Halloween, let's bake some Halloween Cookies! I took my favorite recipe for spice cookies which I make every Christmas and turned them into skeleton gingerbread men for the ultimate Halloween treat. Look! I had a super cute Vine of these, but then Vine went kaput so a pic has to do.. (like my Day of the Dead fella?)
Alright, let's just get right to it. Here's my recipe, just a heads up, you're going to need a scale.
Ingredients:
50ml Orange Juice (about 4 Tbs)
140g brown sugar
50g honey
2 T water
150g unsalted butter, cold, cubed (the real stuff, I use Irish Spring)
1/2t baking soda
1/2 t salt
375g flour
3t holiday spice (nutmeg, cinnamon, clove, cardamom)
In a saucepan, heat up the OJ, honey, corn syrup and brown sugar until everything melts and comes to boil. Make sure to stir. Turn off the heat and add in your cold butter cubes. Stir until butter dissolves, then add your baking soda. Now this will get super cool and foamy (see the pic blow), just keep stirring with a wooden spatula. Let this cool for about 5-10 minutes, and in the meantime mix your four with the holiday spice. Then add the flour mixture to your pan and stir until with a wooden spoon until all is combined. Wrap in plastic foil and leave in the refrigerator for a good 6 hours or overnight.
When ready to bake, Preheat your oven to 400F. Roll out your dough to about 1/4″ and cut out the gingerbread men, or whatever shape you want, like hearts etc. Your Halloween cookies are almost ready!
Bake your cookies about 8-10 minutes at 400F, let cool and decorate with icing. Store the cookies in an airtight container so they keep soft and chewy. Oh wait! I posted that old vine I mentioned earlier into Instagram a while back, check this out! Spooky! (Tip for super easy icing: powdered sugar and lemon juice – add the juice about 1/4 teaspoon at a time, the sugar melts super fast)
Sometimes I like to fill these little treats with marmalades and preserves, like plum or prune. They're yummy coated in chocolate, too! These cookies are the best cookies I've ever made, and the only person I've shared this recipe with was my little sister, and now, you. By the way, I bet she makes bank selling these to the neighbors. Royalties, please?!
Alright, get to baking my friends, tag me in your Instagrams once you're done with these delicious Halloween cookies! And if you have your go-to recipe for cookies, share them in the comments.